Many LDS women have inherited an understanding of sexuality, desire, and spirituality that encourages self-doubt and undermines sexual development.
The Art of Desire 2-day Workshop will challenge cultural false traditions, while offering you a wiser, life-expanding understanding of desire, its relationship to your personal development, and facilitate your deeper integration and expression of your God-given sexuality.
Come enjoy this fun-filled and transformative workshop!
Proof of vaccination or prior exposure are required. Should public health advisories discourage group gatherings on the event dates, you will receive a full refund, or you can keep your ticket for the new event date. Thank you for your understanding during these uncertain times.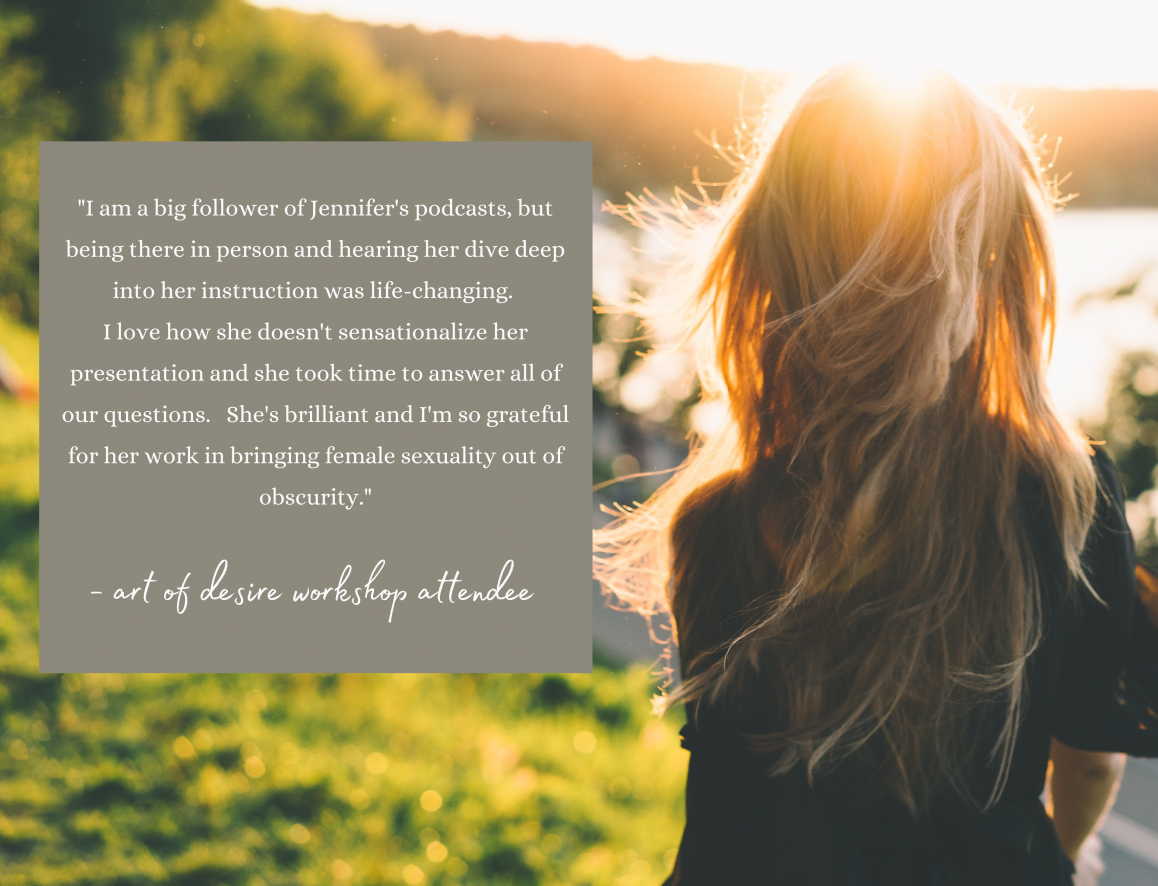 What does a workshop ticket include?
Your ticket includes two days of (life-changing) instruction, refreshments during breaks each day and an instructional workbook.
What travel, dining and over-night arrangements are recommended?
Directions to the venue, lunch options, and parking information will be emailed to you before the workshop. Lunch is not provided at this event.
We recommend, when possible, that participants stay overnight in a hotel, or plan for time alone following Day 1, to allow for important self-reflective time in preparation for Day 2.
What is the cancelation policy?
Tickets can be cancelled and fully refunded prior to 30 days before the event. Any tickets purchased within 30 days of the event cannot be refunded.
Disclaimer: The advice offered through the Art of Desire Workshop is educational and informational in nature and is provided as general information. It is not meant to establish a therapist-patient relationship or offer therapeutic advice, diagnosis, treatment or to establish a standard of care. Although Dr. Finlayson-Fife is a trained psychotherapist, she is not functioning in the role of a licensed therapist during these sessions, but rather using her training to inform these educational sessions. Thus, the content is not intended to replace independent professional judgment. The content is not intended to solicit clients or patients; and should not be relied upon as medical or psychological advice of any kind or nature whatsoever. The information provided through the Content should not be used for diagnosing or treating a mental health problem or disease. The information contained in these communications is not comprehensive and does not include all the potential information regarding the subject matter, but is intended to serve as a resource for general and educational purposes.
Workshop schedule
Thursday, October 21st
8:30 am
Arrive at venue and get registered.
9:00 am – 10:45 am
The cultural (mis)construction of female sexuality and desire.
Impact on women's relationship to their bodies, sexual agency, and desire.
11:00 am – 1:00 pm
Deconstructing women's relationship to desire: The shackles of shoulds, guilt, perfectionism, and an externalized measure of self; How these factors hamper desire and the integration of our sexuality.
2:30 pm – 5:00 pm
What is desire and what is its relationship to wholeness / integrity and personal strength? Desire and its relationship to self-development.
Self-development and its relationship to intimacy.
Assignment to complete before Friday morning.
Friday, October 22nd
9:00 am – 10:30 am
Review and discussion of assignment; Developing the capacity for Intimacy.
Developing genuine generosity as well as the capacity to deeply receive.
10:45 am – 12:15 pm
Sexual self-integration: Understanding our God-given bodies. Understanding women's sexual capacity and nature (hint: it's amazing). The virtue of embracing our bodies; Forging sexual integrity and experiencing joy.
1:30 pm – 3:30 pm
Sexual self-development: Understanding, uncovering, and developing your erotic nature.
3:45 pm – 5:00 pm
Fostering eroticism in relationship to ourselves, a spouse, and to life. Sexuality and belonging more deeply to oneself.
Wrap up: Questions / comments, setting intentions for oneself going forward.
Reviews From Workshop Participants
"Because of the impact you have had on my life and my marriage, I want to thank you for all you have done to acquire the knowledge and eloquence to be able to understand and explain these principles of relationships and sexuality to people like me. My life and marriage has changed incredibly for good. Recently my husband teared up in bed because he was so overwhelmed and happy with how our relationship is moving forward. He is a good, patient and loyal man. Bless him. It has taken me 38 years to choose him, and to own my sexuality. This happened surprisingly quickly once true principles were introduced to me. Those life-changing events came through you and the course I signed up for. Life is good. I don't know how to thank you."

"It is difficult to put into words what a life changing workshop last weekend was. I have been listening to you since nearly the beginning of your entrance into the podcast world and have taken all of your courses, listened to every office hours, caught every interview... I am not joking when I proclaim I could be president of the JFF fan club. However, even with all that study and listening and applying there is still so much work to be done! I had new insights at your Art of Desire workshop this weekend and am seeing myself even more clearly. To be fortunate enough to be in that headspace for that amount of time will be an experience I will look back on and recount as a personal turning point. To say "thank you" for your work seems completely insufficient.... "

Thank you so much for using the talents you have been blessed with for the good of so many women, and especially for LDS women. ... I have had a huge paradigm shift that has caused me to realize things that I didn't know about my sexuality. My goal is to own that part of me that I rejected .. and to be integrated and "whole". I'm not sure how or if it would have happened without your guidance and willingness to use your time and talents to bless my life and the life of my husband through me. ... This experience was a sacred one for me and one I have been searching for, for a long time."

"Of all the podcasts of yours I've listened to, of all the counseling sessions, and of all the online courses I've worked through over and over again, the most meaningful, deeply touching thing that you have taught me happened this weekend [at the workshop]. It wasn't necessarily anything particular you said, it was more in the woman you have become, in who you are. It is manifested in the way you talk and the way you teach and they way you live. ... You have had a powerful impact on my life. You have impacted my marriage and my family. The work that you are doing is directly affecting, for the better, the quality of life for others, and I admire that so much."

"My wife attended your workshop in Orange County recently and already it has changed our relationship in so many good ways. Not just my wife changing for my sake, but changing in ways that she has wanted for a long time, but didn't know how. The ramifications of this are huge. I think we'll both be happier as she starts to live more authentically. And this all applies to me as well, as I'm trying to put the work in to improve to the same level she is. (Also, I'm listening to your Love Rice podcast and it's blowing my mind. So many good principles!) Thank you so much for doing what you do. I really appreciate it."

"I absolutely LOVED this course! It was truly amazing, Jennifer. What you taught completely opened up my view of my sexuality and has been so liberating. I have been more relaxed and present when I"m with my husband. I have a lot to learn still but I feel possibilities in a way that I never have before. THANK YOU FOR TEACHING THIS CLASS !"

"Thank you so much for your time and for your work--I appreciate it so much. My mom came (on my recommendation) to your Art of Desire Retreat in Alpine last fall, and my dad told me several weeks later that he felt like he was living with a different person. Her transformation and new ability to discern what she wants in any area of life, and then to express that desire, has been ASTOUNDING to watch."

"I wanted to thank you for the amazing work that you are doing. My [legal] practice, by the way, was only born after I attended [your Art of Desire] workshop in CA last January. I was immediately enthralled by Dr. Finlayson-Fife's ideas about desire and identity and relationships and contributing good to the world, etc, etc. And I was less consumed by some of the fears that kept me from doing what I want to do. So thank you, again. I feel blessed to have discovered your work."

"I attended one of your [Art of Desire] workshops in Arizona last year. It was life changing for me. Thank you for your bravery and wisdom and humor. Thank you for the light you hold making it easier for me and so many others to see."

It was an incredible workshop! And such a privilege to see Dr. Finlayson-Fife in person. She has played a pivotal role in our emotional, spiritual and sexual development and I am hoping to thank her.

Even though I listen to every podcast, video and subscribe to her new podcast [Room For Two], I still gained so much from the [Art of Desire] workshop. I saw more of my walls and guards that are still up to manage [my husband's] sexuality. I felt deep grief for the ways I had not chosen my husband and also for rejecting the gift he has been trying to give me. I had many "ahas" that are difficult to put into words but are another step in our marriage journey. ... We are learning to choose each other and have Dr. Finlayson-Fife to thank for saving our marriage. ... I try to share her work with everyone. I am truly thankful to her for her moral courage and am growing my courage every day.

I appreciate the work Dr. Finlayson-Fife has done to create an honest, inspiring, growth-based frame to grow our sexuality in marriages as well as growing ourselves. Thank you to the host and Makenzie and JFF's mother (who was such a delight.) Again, thank you!